The Library

A collection of more than
4000 signed books

In the Library Bar you will find a unique collection of signed books by authors who have all stayed at the Ambassade Hotel: more than 4000 of them.
The Ambassade Hotel has traditionally maintained close links with publishers in Amsterdam and the surrounding areas. Many of these publishing houses as well as some of Amsterdam's best-known bookshops and authors' cafés are located within walking distance of the Ambassade Hotel.
Although authors have long been staying at the Ambassade Hotel, the aforementioned collection of signed books was not started until the year 1986. The Ambassade Hotel owes this interesting collection to the fact that Dutch publishers generally book their foreign authors into the Ambassade Hotel for the launch of the Dutch translation of their books.
Famous authors who stayed with us are: Umberto Eco, Salman Rushdie, Paul Auster, Isabel Allende, Jonathan Safran Foer, Nathan Englander and almost all the Nobel Prize winners for literature over the past few years including V.S. Naipaul, Toni Morrison, Mario Vargas Llosa, Herta Müller, Günter Grass, Orhan Pamuk and José Saramago. Not to forget, of course, that Dutch authors are also represented in the collection. For example, Jan Siebelink, Arthur Japin, Hella Haasse and Gerrit Komrij, who stayed with us very often.
GUESTBOOKS

Since the mid-1980s, it has been tradition to invite authors during their stay at the Ambassade Hotel to sign a copy of their most recent book and to write a few words in the guest book. Apart from inscriptions by authors, this book also contains entries from musicians, actors, painters, philosophers, architects and politicians, who often stay at the hotel at the invitation of cultural foundations.
The collection in the Library Bar has meanwhile been built up to more than 4000 copies of works by authors from 76 different countries. The collection is in the main made up of literary works, but books on the most diverse topics can also be found there. The guest books are kept in a separate section of the bookcase. On request, guests may have a closer look at the books and the guest books. In the guest books you will find the most beautiful, inspiring quotes and dedications written by all the famous guests that stayed in our hotel.
It may be due to its lasting literary tradition that the Ambassade Hotel itself is featured in a number of novels, among them "The Museum Guard" by Canadian author Howard Norman and "Tod eines Kritikers" by German author Martin Walser.
Of course, the Library Bar also lends itself to a business meeting, to relaxing with a drink or to reading a newspaper or magazine.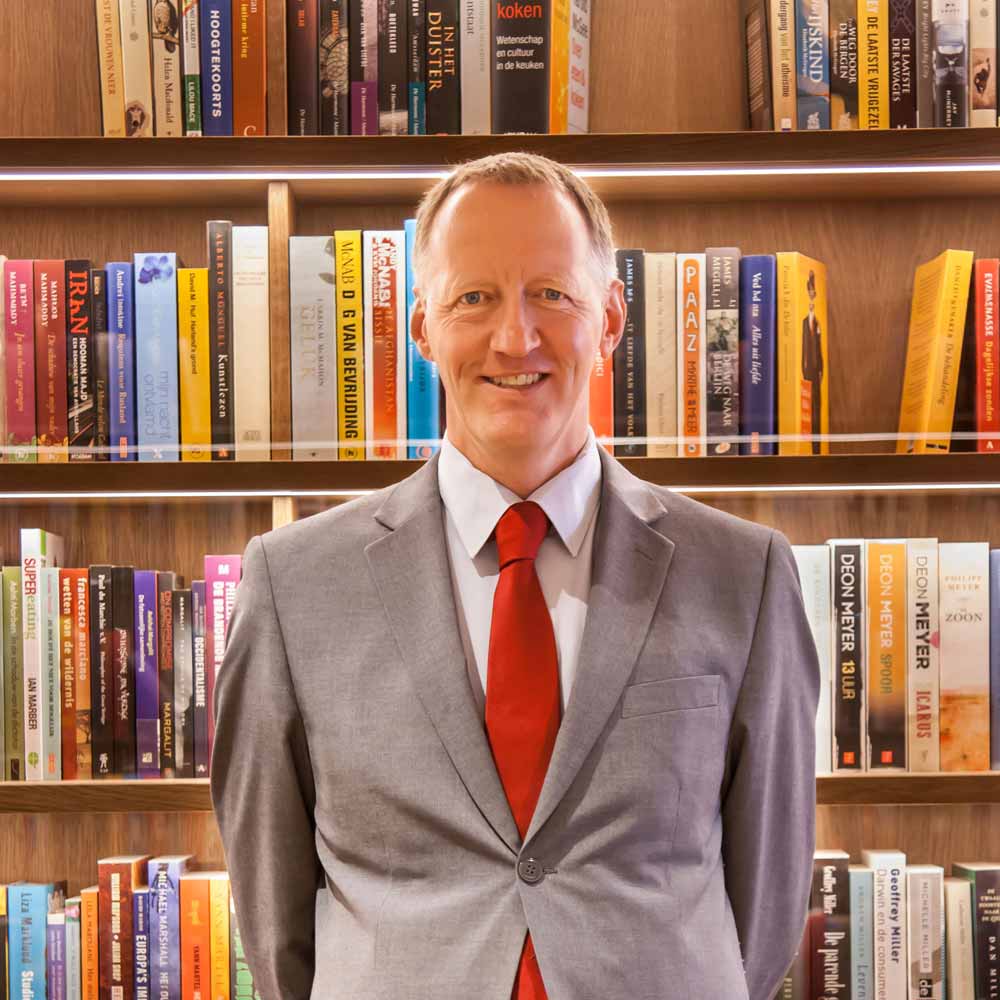 About our librarian Eelco Douma
Al vanaf mijn jeugd ben ik fanatiek lezer van literatuur.
Toen ik na mijn studie Geografie aan de Universiteit van Amsterdam in 1994 in het Ambassade Hotel ging werken vond ik het dan ook zeer inspirerend dat het hotel zulke goede banden heeft met de uitgeverijen en literaire instellingen. Aangenomen als reserveringsmanager kreeg ik tot mijn genoegen steeds meer te maken met het literaire aspect van het hotel en werd ik de contactpersoon voor de uitgeverijen en de schrijvers die in het Ambassade Hotel verblijven.
Het is een geweldig onderdeel van mijn werk om de schrijvers te mogen verwelkomen en ervoor zorg te dragen dat hun persbezoeken vlekkeloos verlopen. Van iedere schrijver ontvangt het hotel bij zo'n gelegenheid het laatste boek, dat we dan door de auteur laten signeren. Bovendien vragen we de auteurs om een paar woorden in het gastenboek te schrijven. Deze gastenboeken zijn inmiddels een boeiend verslag van meer dan 30 jaar literaire geschiedenis van Nederland èn het Ambassade Hotel.
Rond de eeuwwisseling was de collectie gesigneerde boeken zo groot geworden, dat het Ambassade Hotel een bibliotheek kon gaan inrichten die inderdaad helemaal bestaat uit gesigneerde exemplaren van auteurs die in het hotel verbleven hebben.
De eigenaar vroeg mij toen naast mijn taken als reserveringsmanager de boekencollectie te gaan beheren en zo werd ik benoemd tot bibliothecaris van het Ambassade Hotel.
Met zeer veel genoegen oefen ik deze eervolle functie uit.
Inmiddels is de collectie van het Ambassade Hotel gegroeid tot bijna 4500 boeken, waaronder een aantal van mijn grote favorieten als Rupert Thomson, José Saramago, Ian McEwan en Dimitri Verhulst. De contacten met de uitgeverijen zijn altijd erg plezierig en ik ben hen zeer dankbaar want dankzij hen is het Ambassade Hotel uitgegroeid tot hét literaire hotel van Nederland.
Het is heerlijk te mogen werken tussen de boeken van al die grote auteurs en soms voel ik me daarom ook als de hoofdpersoon in Haruki Murakami's roman Kafka on the Shore: "the stars are like the trees in the forest, alive and breathing, and they're watching me".
Eelco Douma