Ambassade Art Gallery & Amsterdam Sinfonietta
present:

Sunday 26th of February, 2023
12.00 – 15.30u
Thank you for celebrating art and music with us
On February 26th '23, a small group of art and music lovers enjoyed a private Amsterdam Sinfonietta concert at the Ambassade Art Gallery complemented by a culinary lunch at Brasserie Ambassade.

Music from the heArt was a magical event to host and it was lovely to see our guests so delighted with a wonderful afternoon like this.
Click the button below and stay informed about upcoming events by subscribing to our newsletter! You can select the topics of your interest, such as restaurant updates, promotions, and upcoming art & culture events!
Celebrate Art & Music with us
Amsterdam Sinfonietta and the Ambassade Hotel invite you to this unique event dedicated to art & music. A private, intimate concert for a small group, complemented by a culinary two-course lunch in Brasserie Ambassade, festive drinks ánd an cultural introduction to the art & literature collections of the hotel.
At the Ambassade Hotel, art takes on a prominent role: the hotel owns an impressive CoBrA-art collection, with over 800 artworks on display in the public areas and in all hotel rooms. In the Library Bar of the hotel you will find a unique collection of more than 5000 signed books by authors who have all stayed at the hotel.
With this unique collaboration the Ambassade Hotel proudly emphasizes its commitment as one of the main sponsors of Amsterdam Sinfonietta.

The Amsterdam Sinfonietta
Amsterdam Sinfonietta comprises 22 gifted chamber musicians, embodying ensemble-playing at the highest level. Led by its artistic director Candida Thompson, the orchestra tours the world with adventurous programmes and crossovers with other music genres and art forms. 
Characterised by drive and dedication, Amsterdam Sinfonietta is considered to be the top string orchestra in the Netherlands and enjoys international acclaim. It champions and renews its own genre, captivating audiences with its innovative and refreshing approach.
An intimate, private concert
On Sunday February 26th 2023, we are hosting a special event where contemporary art meets the highest level of ensemble-playing.
For this intimate concert, Amsterdam Sinfonietta selected three of their top musicians to perform for you.
Ingrid van Dingstee, violin
Inki Varga, violin
Örs Köszeghy, cello
Read more about the musicians
Ingrid Dingstee
From 1996 to 1998, Ingrid studied with Victor Liberman and Keiko Wataya at the Sweelinck Conservatory in Amsterdam and received her DM diploma with distinction with a grade of 10.Since 2001, Ingrid has been 1st violinist in Amsterdam Sinfonietta. She also regularly substitutes in various Dutch orchestras, such as the Royal Concertgebouw Orchestra, the Dutch Philharmonic Orchestra, the Dutch Chamber Orchestra and the Radio Philharmonic Orchestra. As concertmaster, she gained experience with the Netherlands Youth String Orchestra, the Netherlands Youth Orchestra and the National Youth Orchestra, among others.
Inki Varga
Inki studied at the conservatory of Utrecht and rotterdam with Keiko Wataya, Joan Berkhemer and Benzion Shamir for Teaching and Performing Musician. In addition to chamber music in various line-ups, Inki has been a permanent member of the string orchestra Amsterdam Sinfonietta for 25 years and plays with well-known soloists such as Janine Janssen, Thomas Hampson, Maxim Vengorov and Isabelle Faust.
Örs Kőszeghy
Örs was born in 1980 in Budapest. He received his first degree from the Franz Liszt as a student of Csaba Onczay. He continued his studies at the Conservatory of Amsterdam with Dmitri Ferschtman where he received his masters in 2006. Since 2009, he has been a regular member of the Amsterdam Sinfonietta.
Örs has a passion for chamber music: in addition to the string trio 'Trio Dumas' he also performs as cellist of the clarinet trio 'Maneon Trio' and gives sonata recitals with pianist Daniël Kramer. His interpretations of solo cello pieces of the 20th century have taken him to many important venues and festivals, from the Cello Biennale Amsterdam to the Huddersfield Contemporary Music Festival.
Read more about the musical pieces
Luigi Boccherini (1743-1805)
Strijktrio op. 1, nr. 2 (1760) in Bes gr.
Allegro
Largo
Presto assai
Antonín Dvořák (1841-1904)
4 Miniatures in 75a. (1887)
Cavatina (Moderato)
Capriccio (Poco allegro)
Romance (Allegro)
Elegie (Larghetto)
Antonio Vivaldi (1678-1741)
Sonata in d kl, RV. 63, 'La folia'
About the Ambassade Art Gallery
With a wonderful view over the Herengracht canal, our hotel guests and visitors from all over the world are invited to view contemporary art exhibitions.
Curator Chinny Bond arranges the exhibitions with works of Amsterdam & international artists, both upcoming and established names.
The upcoming exhibition 'SEVEN "DAM" YEARS', featuring works by Alberto De Flavis (Italy) and Lukasz Wise (a.k.a. Wise Kid, from Poland), runs from January 27th until April 30th, 2023.
Ambassade Art Gallery opened its doors early 2022. Besides inviting art lovers for art exhibitions, we also offer this unique space as a (business) meeting room seating 24 guests in conference setting.
Art from the heart

At the Ambassade Hotel everything we do is from the heart.
The love we feel for our work, for our guests, for our co-workers and especially also for artworks, is an essential part of our entrepreneurship. The vision of the Ambassade Group is to offer a unique cultural meeting place, both for our hotel guests as well as for local & international visitors. Our love for music and the partnership with Amsterdam Sinfonietta fits perfectly into this philosophy.
Event program
Sunday 26th of February, 2023 | 12.00 pm – 15:30 pm

12.00h – 12.30: Welcome to the event with glass of Cava or Orange juice
12.30 – 13.30: Concert in the Ambassade Art Gallery, preceded by an introductory talk about the Gallery, the artworks and the current artists by the curator.
14.00h – 15.30: Two-course lunch and drinks at Brasserie Ambassade, while enjoying an introduction to the Art Collection of the hotel by private guide Eduard Janssen
15.30: End of the event
15.30h – 16.30: Possibility to have a drink at the Library Bar
(at own costs)
Ticket sales

| The event is sold out |
Reserve your spot for this unique event
on Sunday the 26th of February at the Ambassade Art Gallery.
Early Bird Ticket | purchase between 13 January – 1 February | 59.50 euro
Regular Ticket | purchase from 2 February | 64,50 euro
We offer the choice between a culinary Lunch Menu du Chef,
and a Vegetarian Lunch Menu du Chef (both same price)
(after clicking the button below, the ticket module opens on the right side of your screen)
Read more about the Ambassade Hotel
The Ambassade Hotel is a charming hotel conveniently located in the heart of Amsterdam's Canal District within walking distance of the main museums, popular shopping areas and historic landmarks. Spanning fifteen original canal houses that were built during the 17th century, the hotel has retained its classical, historic character and allure and offers a unique opportunity for you to experience.
Brasserie Ambassade
&

the Library Bar
Enjoy fine dining in a beautiful brasserie, surrounded by colourful paintings from famous Cobra artists. Brasserie Ambassade offers classic French dishes with a modern twist, in combination with fine wines. Or enjoy a stylish drink in our library with 5000 signed books. In our Library Bar we serve classic cocktails, a selection of the best beers and delicious cappuccinos.
The Ambassade Hotel holds a great interest in art and literature. The management of the hotel started with the collection of CoBrA art in late 2001. At the time of writing the collection contains over 800 works of art. Besides that, you will find a unique collection of more than 5000 signed books by authors who have all stayed at the hotel, in the Library Bar.
At Koan Float we offer several treatments. Floating sessions and massages are available in 45-minute sessions, 60-minute sessions, or longer by request. Please do not hesitate to ask the hotel staff for any additional information, or feel free to visit the float & massage center.
Koan Float is open daily from 9.30 AM to 11 PM.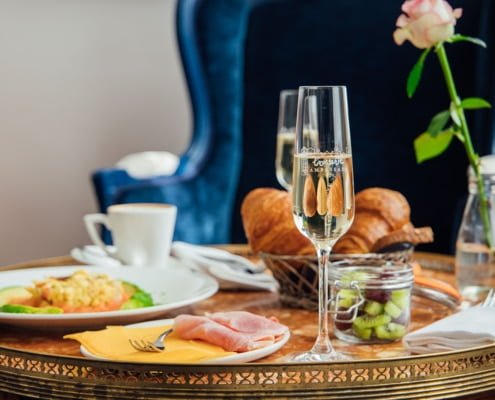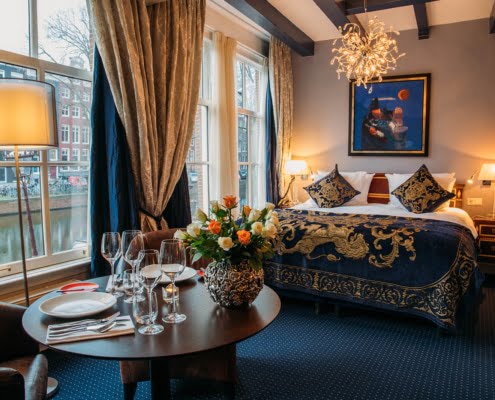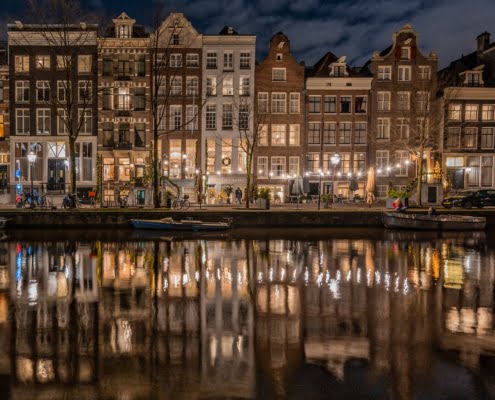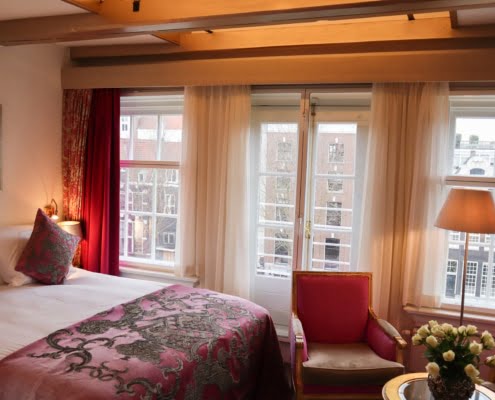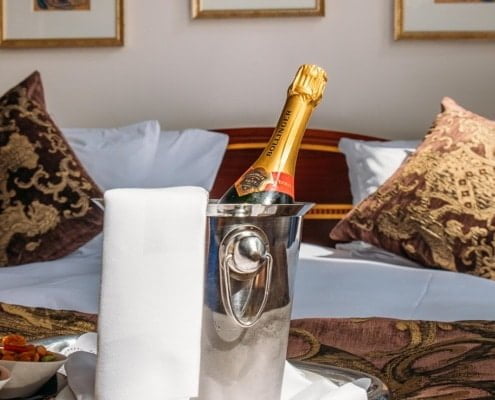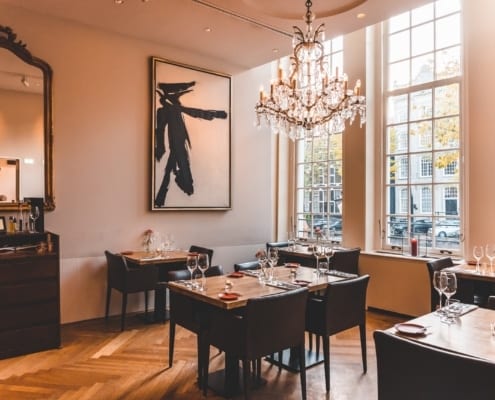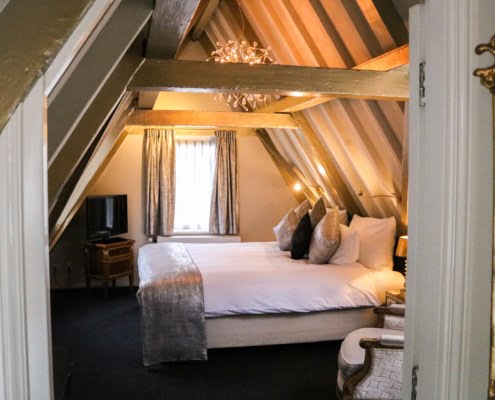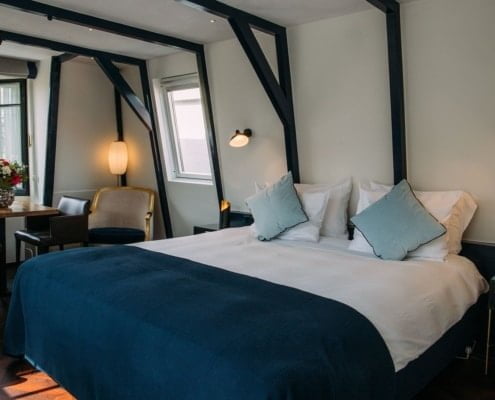 Curious? Enjoy a virtual walk through the Ambassade Hotel