Auke Hulst (b.1975) had his breakthrough with
the autobiographical Children of the Savage Land, and
has written prize-winning novels such as Brotherland
and Searchlight on the Lawn. He was awarded the
Bob den Uyl Prize for his travel book Motel Songs.
His latest novel is The Mitsukoshi Consolation Baby
Company. Hulst is also a songwriter and literary critic.

The Bear and the Bride
Ask Google who I am, and the digital encyclopaedia will tell you: writer/writer-musician. But the only thing I've had a little training in is photography, in the form of two chaotic years at the Minerva Art Academy in Groningen. Occasionally, that Ausbildung comes in handy; for example, when there's no budget to send a photographer to some distant destination,
or the day of my first experience of the Ambassade Hotel, in 2009.
My good friend and former housemate, Stefan Kuiper, was supposed to interview a celebrity there for the weekly magazine, De Groene Amsterdammer, and he said it would be Frank Boeijen. Sadly, the photographer was unable to come to provide their services. Could I please dust off my camera posthaste? Once I'd arrived, it turned out not to be the singer from Nijmegen, but the Australian writer and art critic Robert Hughes, an infamous grouch.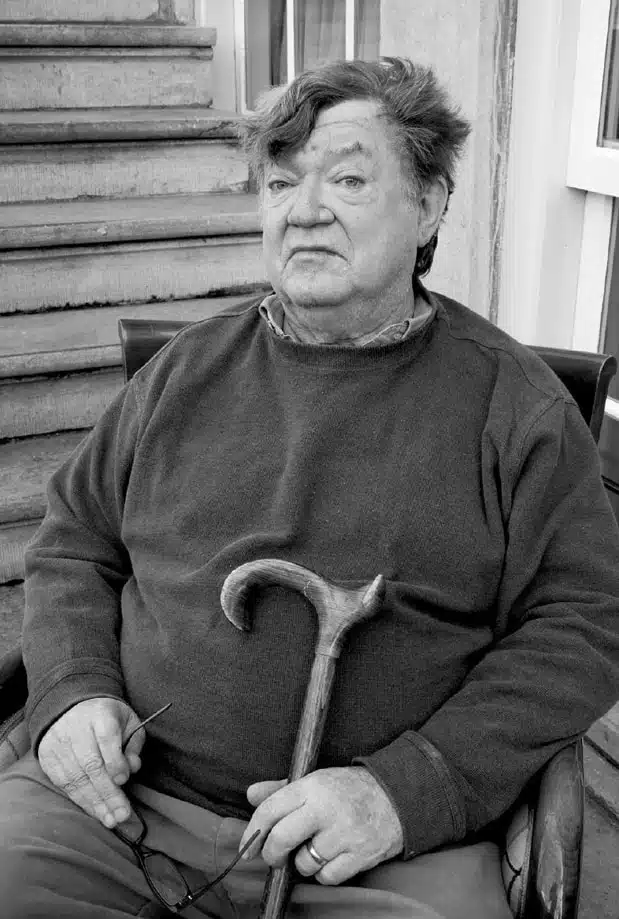 Mister Hughes was substantial of brain and belly, he had difficulty walking and was not very forthcoming. He'd just had breakfast and was not inclined to make much of an effort. Move to a more photogenic room? How far did we think he could walk, actually? Just put a lounge chair out in front of the hotel, he could just about manage to walk there from the lobby.
Hughes sat down, his walking stick propped between his legs, his glasses in his hand, and with a bellicose expression. Five minutes, that had to be enough. 'We're not going to make this into a Richard Avedon session now, are we?' Then after a few hurried shots: 'Okay, boys, cripple time is over.' But precisely because of his contrariness, the man let himself be captured as he was. I cherish that photo, all the more so because Hughes died a few years later.
Since then, I have often been back to interview writers myself. But I'd never been a guest. And why? I live close by.
Until Corona came along. On New Year's Eve, 2020, the stroke of midnight, I asked my beloved Revka to marry me, but we immediately knew it would take quite a while before the world had normalised enough for the party we had in mind. In the meantime, we decided to celebrate our engagement every last day of the month. And so it was that on 31 January, a highpoint of the lockdown, we spent a night at the Ambassade Hotel, so that Revka, who'd booked the room, could feel 'what it's like to live on a canal' for a little while. You could actually dine — not in the room that we'd booked, but in a genuine suite, which we were upgraded to without asking. The hotel is no longer the hotel from the photoshoot with Robert Hughes, but the hotel where we could briefly escape the dark times and celebrate something beautiful.
View the column on the website of 'Het Parool'.
What is a writers' hotel without writers? A pen without ink? For a period of six months in 2021, one author a week was invited to stay at the Ambassade Hotel and describe their writing lives at that time. Throughout the period May to November 2021, the newspaper Het Parool published the Writers' Hotel columns in its weekly Arts Section.
Read more about this column project in collaboration with 'Het Parool'.
Would you like to stay at the writers' hotel as well? Enjoy a unique experience in the Ambassade Hotel with these special offer packages or come and admire the library after visiting our sunny terrace on the Herengracht!
https://ambassade-hotel.nl/wp-content/uploads/2021/08/Schrijvershotel_Auke-Hulst_Ambassade-Hotel-schrijvershotel.png
675
540
julia
https://ambassade-hotel.nl/wp-content/uploads/2023/02/Logo-Ambassade-Hotel_-transparant-wit-2.png
julia
2021-08-23 08:38:16
2022-03-11 10:15:20
Auke Hulst