CELEBRATE VALENTINE'S DAY 2022
at the Ambassade Hotel or at home

Enjoy your stay to the fullest with our romantic Valentine Specials.
Surprise your loved one during Valentine's Day. Enjoy this unique culinary experience at the Ambassade Hotel, or within the comfort of your own home!
The Ambassade Valentine Specials can be booked or ordered for the
11th, 12th, 13th and 14th of February.
Discover our Valentine Specials
Ambassade Valentine Special
11th, 12th, 13th, & 14th of February
Overnight stay in a luxurious room
with (optionally) a wonderful view of the canal
—
Extensive breakfast in bed
every morning
—
Four-course Valentine shared dinner
for each person, one time per stay
—
Complimentary bottle of cava
in your room upon arrival
—
Valentine's gift
Rose petals, a red rose, and a box of delicious chocolate bonbons in your room
—
Special offer price:
Normal price from € 419,-
NOW FROM € 249,-*

Receive up to 47% discount
*Flexible rate for two persons, free cancellation up to 48 hours before arrival.
AN ORIGINAL VALENTINE'S GIFT
for you and your loved one
Surprise your loved one with the Ambassade Valentine Box: a romantic 4-course Valentine's Dinner and a red rose delivered to your home to enjoy together.
In addition, you can make the evening even more beautiful by adding the Ambassade Romance Box, Macarons, or our homemade Strawberry Liqueur & fresh strawberries.
The Ambassade Valentine Box can be ordered for the 11th, 12th, 13th & 14th of February, 2022.
—
Four course – shared dining:

€ 47,50 p.p.
Pairing wine and cocktails (optional) +
€ 29,50 p.p.
—



Romance box 

€ 19,50

Chocolate bonbons | Rose petals | Candle | Lush bath-bomb
—


Macarons

€ 9,50

4 tasteful and romantic macarons
—


Homemade strawberry liqueur, 250ml
€ 9,50
with fresh strawberries
Would you like to receive some more information first?
Get in contact with us by phone through +31 (0)20 555 02 22 or by e-mail, with the button below. We hope to welcome you soon!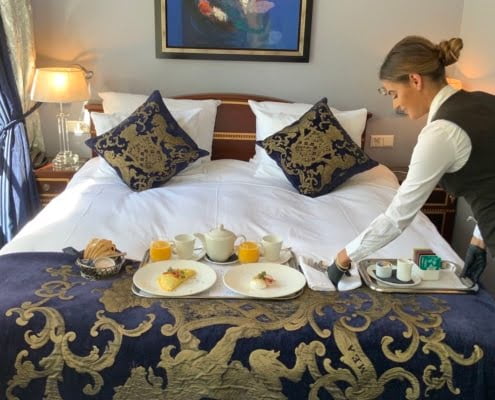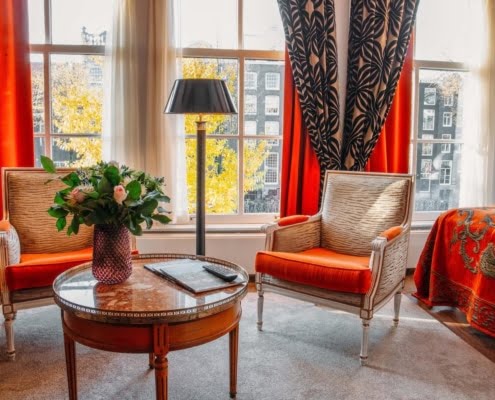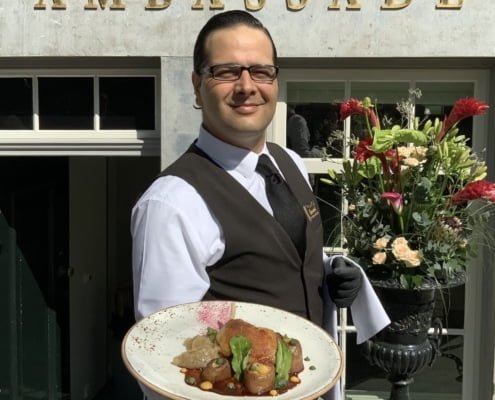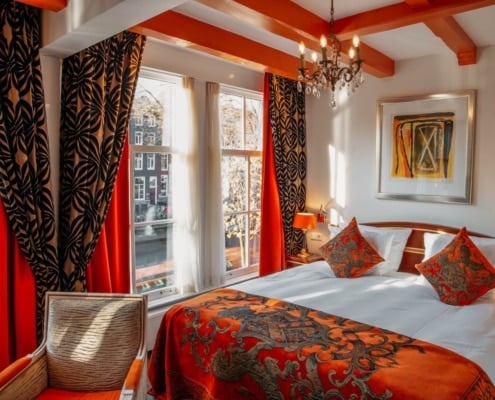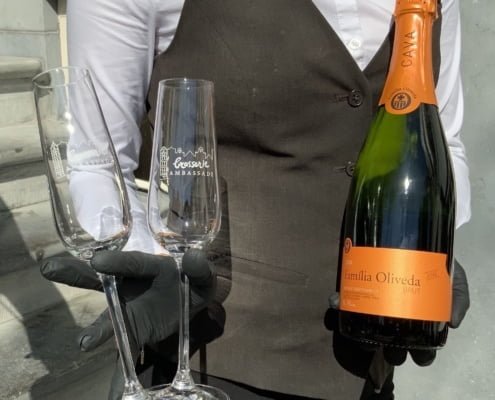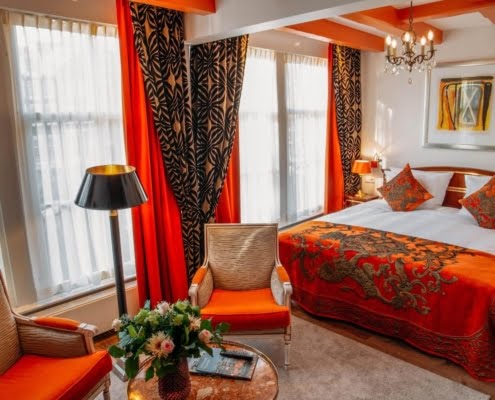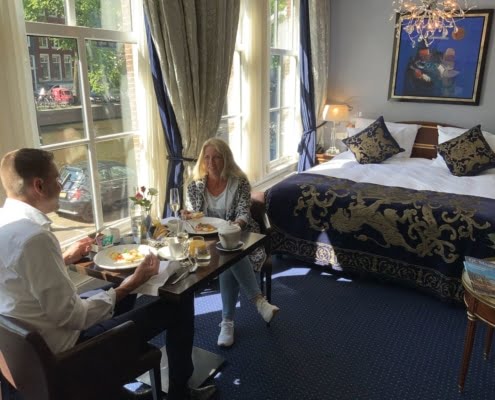 About the Ambassade Hotel
The Ambassade Hotel is a charming hotel conveniently located in the heart of Amsterdam's Canal District within walking distance of the main museums, popular shopping areas and historic landmarks. Spanning sixteen original canal houses that were built during the 17th century, the hotel has retained its classical, historic character and allure and offers a unique opportunity for you to experience.
Enjoy lunch and fine dining in a beautiful brasserie, surrounded by colourful paintings from famous Cobra artists. Brasserie Ambassade offers classic French dishes with a modern twist, in combination with fine wines. Or enjoy a stylish drink in our library with 5000 signed books. In our Library Bar we serve classic cocktails, a selection of the best beers and delicious cappuccinos.
The Ambassade Hotel holds a great interest in art and literature. The management of the hotel started with the collection of CoBrA art in late 2001. At the time of writing the collection contains over 800 works of art. Besides that, you will find a unique collection of more than 5000 signed books by authors who have all stayed at the hotel, in the Library Bar.
At Koan Float we offer several treatments. Floating sessions and massages are available in 45-minute sessions, 60-minute sessions, or longer by request. Please do not hesitate to ask the hotel staff for any additional information, or feel free to visit the float & massage center.
Koan Float is open daily from 9.30 AM to 11 PM.
Curious? Enjoy a virtual walk through the Ambassade Hotel